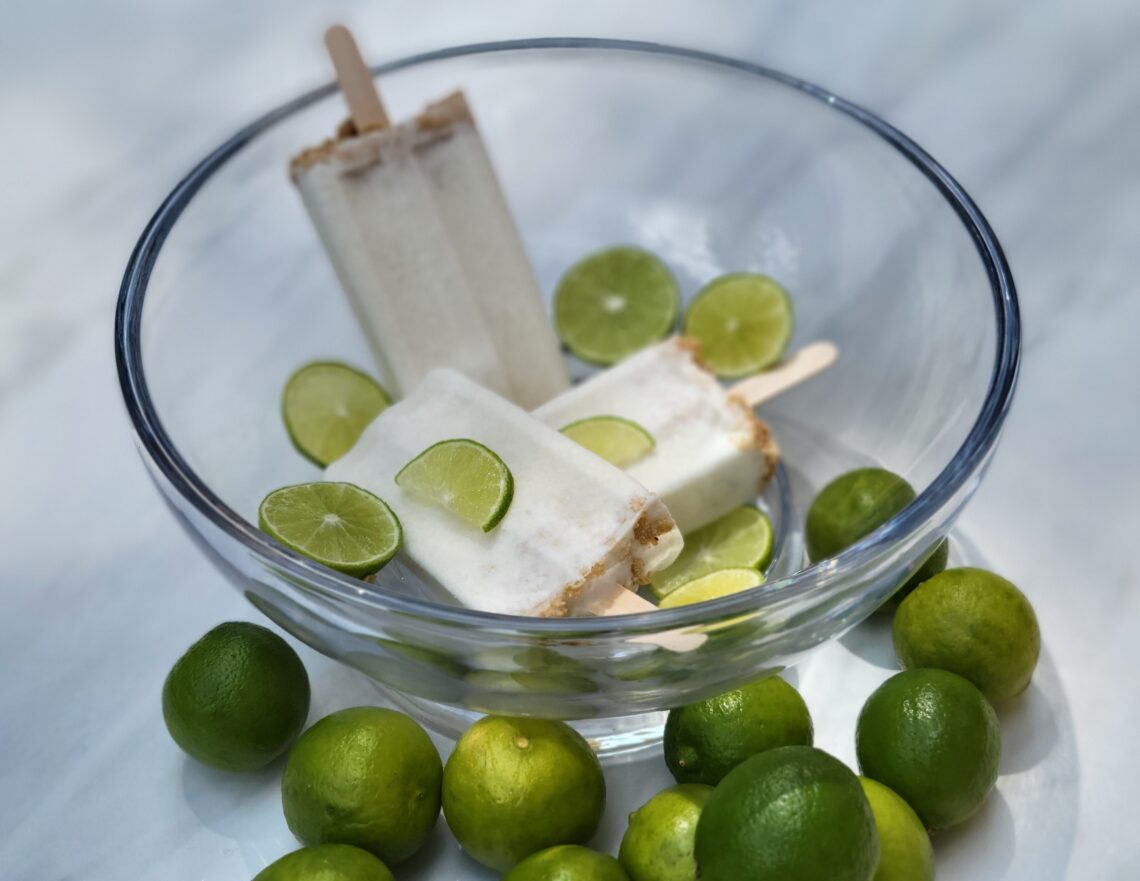 Popsicle Crazy: Key Lime Popsicles (with no added sugar)
I have gone popsicle crazy this summer! The possible combinations are endless! I definitely recommend purchasing a mold to make popsicles. Mine is made of silicone and makes 10 pops at a time. If you don't have one, then paper cups covered individually with plastic wrap will work too – just make a small slit in the plastic wrap to insert a wooden popsicle stick.
When I made key lime popsicles during a visit with my parents this summer, everyone seemed to really enjoy them. My Dad especially raved about how great they were, while asking for the recipe! So here it is for him and everyone else who is interested.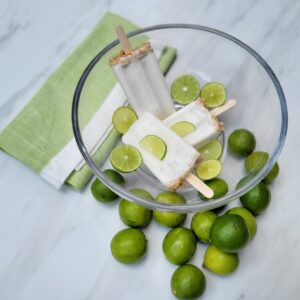 Key Lime Popsicle (no added sugar)
Looking for an easy-to-make tasty treat that is lower in calories, diabetes-friendly, and lasts a long-time? This recipe uses monk fruit sweetener with erythritol, a sugar substitute that provides no additional calories, and sugar alcohols that are generally not absorbed.(1) Since it takes a long time to eat a popsicle, you may feel "complete" afterward and ready to move on to the next activity of the day, thereby reducing the desire to eat more!!
Equipment
Silicone popsicle maker

Wooden popsicle sticks

Or, paper cups and plastic wrap in place of popsicle maker
Ingredients
½

cup

key lime juice

from bottle or freshly squeezed

1

cup

monk fruit sweetener with erythritol

1¾

cups

coconut yogurt alternative (unsweetened)

vanilla flavor

½

teaspoon

vanilla extract

3

sheets

graham crackers

5" x 2.5" rectangles

1

tablespoon

plant-based butter

softened
Instructions
Combine the lime juice and monk fruit sweetener in a microwave-safe bowl. Cover with a paper towel, and heat for 1 minute and 30 seconds in a microwave oven. When done, give a stir and set it aside for about 10 minutes to cool and dissolve a bit.

In a medium-sized bowl, stir together coconut yogurt with the vanilla extract. Give the lime juice and monk fruit sweetener mixture another stir, and add it to the bowl with coconut yogurt. Whisk or use a hand blender for a few seconds (not long) until smooth.

In a separate medium-sized bowl, add graham cracker sheets with the softened plant-based butter, and crunch while combining them using a potato masher or biscuit cutter. Use a butter knife to remove stuck graham cracker pieces from the potato masher or biscuit cutter. Use fingers to further combine the graham crackers and plant-based butter to smaller pieces.

Add the lime juice, coconut yogurt mixture to each popsicle mold to ⅔ full each. Next, drop in the graham cracker mixture evenly to each mold. Last, add the remaining lime juice, coconut yogurt evenly to each mold.

Add the popsicle maker top and wooden sticks. Freeze for 12 to 24 hours depending on your freezer temperature. Remove popsicles from the popsicle maker and place in a freezer ready storage container. Enjoy!!
Notes
Nutrition information per serving: 48 calories, 3 grams fat, 1 gram saturated fat, 25 grams total carbohydrate (19 grams of the total carbohydrate is sugar alcohol), 1 gram fiber, 0 grams protein, 38 milligrams sodium, 87 milligrams calcium
Substituting unsweetened plain Greek yogurt in place of the unsweetened vanilla coconut yogurt will add a few calories and 4 grams of protein per popsicle. 
Notes:
1 Ross, T. Ask the expert-what are sugar alcohols? American Diabetes Association Diabetes Food Hub website. Published September 2019. Accessed July 16, 2021. https://www.diabetesfoodhub.org/articles/what-are-sugar-alcohols