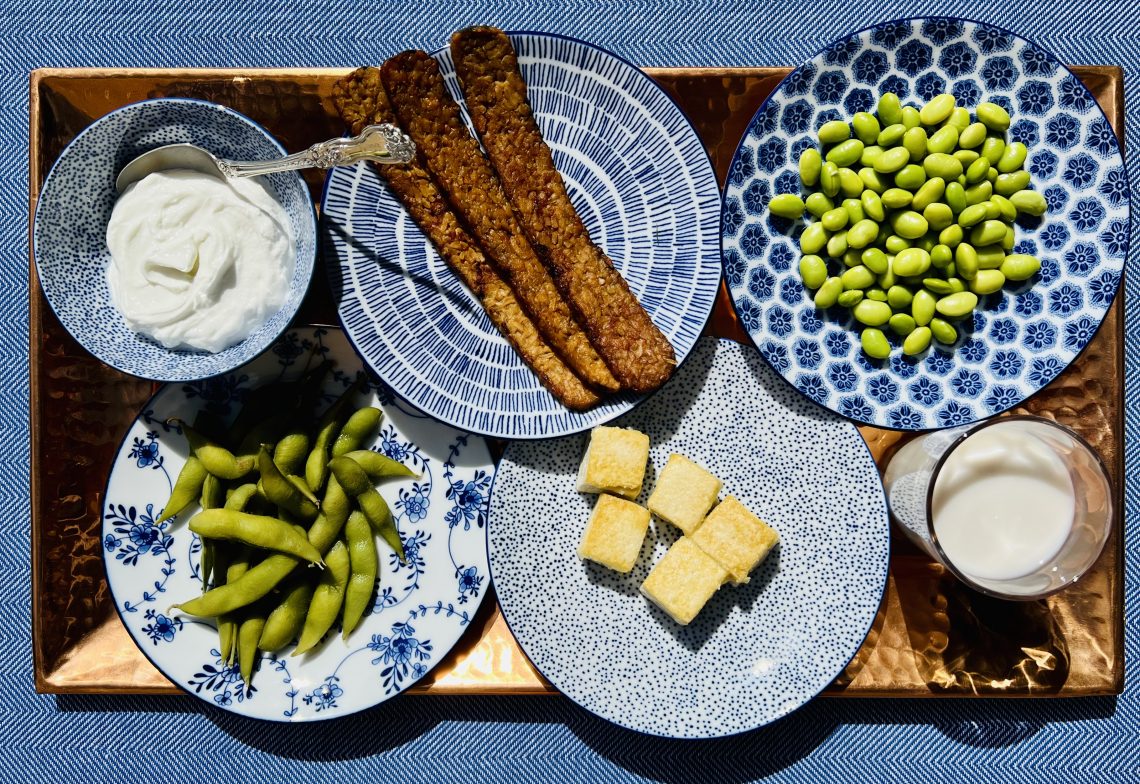 Benefits of Eating Soy Foods
Soy foods are great sources of nutrients including protein. Other components within soy foods include isoflavones, a class of phytonutrients that are the subject of research to try and understand the apparent correlations between soy foods and improved health. 
A diet that includes soy foods may help
lower LDL cholesterol by a modest amount
lessen hot flashes during menopause
lower risk of breast cancer especially when consumed starting early in life
lower risk of prostate cancer
reduce inflammatory factors within the body
decrease the burden on kidneys in contrast to other high quality proteins
Soy foods that are good sources of soy isoflavones include
soymilk
tofu
edamame/ mukimame
tempeh
soy yogurt
Processed soy foods such as soy veggie burgers will have fewer isoflavones present.
According to the Vegetarian Nutrition Dietetic Practice Group, intake of 2-3 servings of soy foods daily may be beneficial. 
My favorite drink at meals includes a half-serving of soy and takes just a second to make: combine ½ cup unsweetened soymilk + ½ cup unsweetened almond milk over ice. I have my favorite brands based on their taste (each has a slightly different taste, so try a variety to see what you prefer).
Go to my latest YouTube video for a quick tutorial on how to cook with a block of tofu.
For more information on soy, health, and recipes using soy foods go to:
Free sources:
And also my complete guide to plant-based eating:
Notes:
Nachvak SM, Moradi S, Anjom-Shoae J, et al. Soy, Soy Isoflavones, and Protein Intake in Relation to Mortality from All Causes, Cancers, and Cardiovascular Diseases: A Systematic Review and Dose-Response Meta-Analysis of Prospective Cohort Studies. J Acad Nutr Diet. 2019;119(9):1483-1500.e17. doi:10.1016/j.jand.2019.04.011
Wu SH, Shu XO, Chow WH, et al. Soy food intake and circulating levels of inflammatory markers in Chinese women. J Acad Nutr Diet. 2012;112(7):996-1004.e10044. doi:10.1016/j.jand.2012.04.001