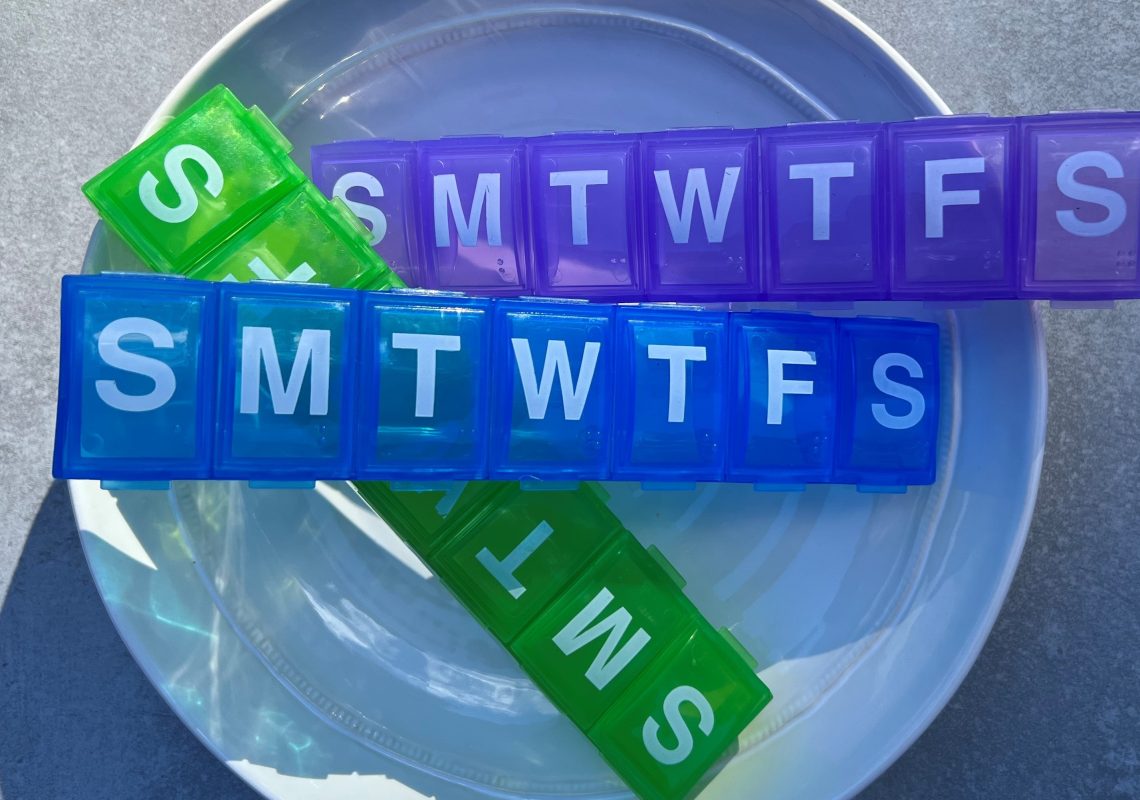 Weekly Organizer for Vitamins and Supplements
There is no substitute for eating a well-balanced diet based on whole foods with lots of variety. I suggest using whole foods first to meet your overall nutrient needs, fortified foods second, and supplements to fill in nutrient gaps if needed.
Whether or not you take a vitamin, mineral, and/or other supplements is up to you as an individual based on your needs which will be influenced by your diet, medications that may interact with certain nutrients, genetics, age, whether you are pregnant or breastfeeding, and other factors. It is best to not only educate yourself but to also discuss and coordinate your intake of supplements based on your individual needs with your healthcare provider.
A little organizing helps to ensure that supplements are taken regularly as prescribed. Every week I organize each family member's vitamins, minerals, and other supplements in an individual organizer box for each day of the week based on their needs. Everyone in our house has their own color for safety. These organizers can usually be found at your local grocery or pharmacy and are inexpensive. I suggest getting ones that are larger in size to ensure plenty of room. Be sure to keep all vitamins and supplements out of reach of children for safety.
In my book, The Dietitian Presents – The Smart Guide to Plant-Based Eating: Well-Planned Meals Made Easy + Recipes for 28 Days, I give a detailed review of the main nutrients of concern on a plant-based diet. Many of these nutrients may be beneficial for overall health if not being met by diet alone, regardless of whether you follow an exclusively plant-based dietary pattern or not. Of course, there is a balancing act as too much or too little of a particular nutrient may cause adverse health consequences.
Remember to strive to consume a well-balanced whole food first dietary pattern with lots of variety to meet your overall nutritional needs and consider using supplements as needed and in moderation to fill in nutrient gaps with guidance from your personal healthcare provider.
By the way, my book makes a great gift to encourage you or your loved one to eat a more healthful diet.