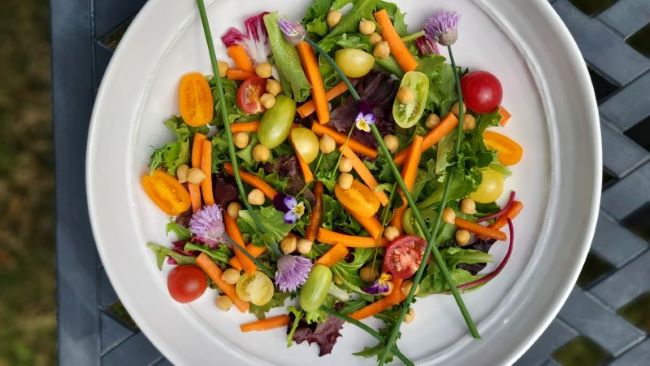 Oh the joy of flowers! I have been waiting for the day to try the edible flowers I planted in my kitchen herb garden! While not all flowers are safe to eat, Johnny Jump Ups and Pansies I grew from edible seeds as well as my flowering chives are all safe to eat. 1,2
The Johnny Jump Ups were very mild in taste, while the flowering chives were quite strong. I would say that it helps if you are a vegetable/salad lover to really appreciate these. The flowering chives tasted wonderful to me dipped fully in a mixture of balsamic vinegar and olive oil, while the Jump Ups were great on their own! And they make your plates so beautiful and so much fun to grow! It was very hard to cut them just because they were so pretty.

You can see my main kitchen herb garden below. It still has some growing to do! Please check back next month to see the changes!

Notes:
1 Glen C. Which Flowers Are Edible? North Carolina Cooperative Extension website. https://chatham.ces.ncsu.edu/2014/10/what-flowers-are-edible/. Updated October 24, 2014. Accessed April 20, 2021.
2 Grzeszczuk M, Wesolowska A, Jadczak D, Jakubowska B. Nutritional Value Of Chive Edible Flowers. Acta Sci. Pol., Hortorum Cultus 10(2) 2011, 85-94. https://www.researchgate.net/publication/228518963_Nutritional_value_of_chive_Edible_Flowers. Accessed April 20, 2021.