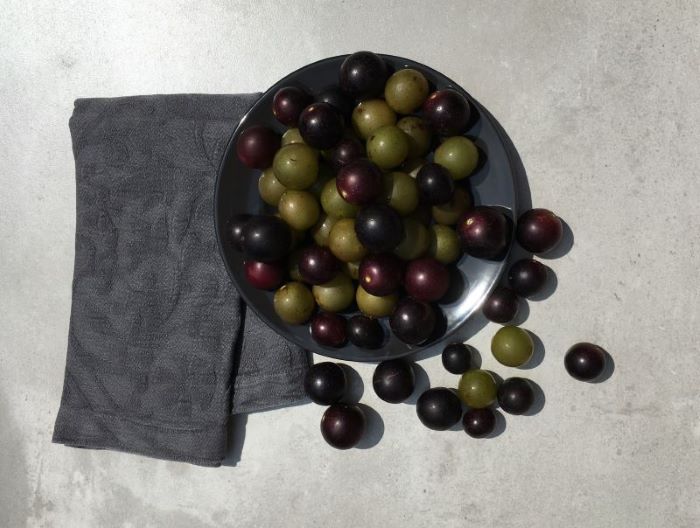 Muscadines are a form of grape that are in season now, September and October, in the United States.  Once you taste this sweet and tart fruit you may just fall in love.  Beautiful muscadines will turn your meal into a work of art as a side or naturally perfect dessert.  Depending on the variety, the skin may be thin enough to eat whole. Just discard the skin if it is too thick.  The seeds in the middle of some muscadines are barely noticeable, while in others you will want to remove them as you eat.   
Muscadines not only taste great, they also contain a variety of polyphenols, phytonutrients or plant compounds that protect plants which may provide health benefits.  For example, studies have shown that polyphenols help support a healthy gut microbiota (1,2,3).  Pick up some muscadines today!!
1 Dietary-Factors/ Flavonoids. The Linus Pauling Institute website.  https://lpi.oregonstate.edu/mic/dietary-factors/phytochemicals/flavonoids  Accessed September 1, 2020.
2 Cardona F, Andrés-Lacueva C, Tulipani S, Tinahones FJ, Queipo-Ortuño MI. Benefits of polyphenols on gut microbiota and implications in human health. J Nutr Biochem. 2013;24(8):1415-1422. doi:10.1016/j.jnutbio.2013.05.
3 Stevens, J.F., Maier, C.S. The chemistry of gut microbial metabolism of polyphenols. Phytochem Rev 15, 425–444 (2016). https://doi.org/10.1007/s11101-016-9459-z