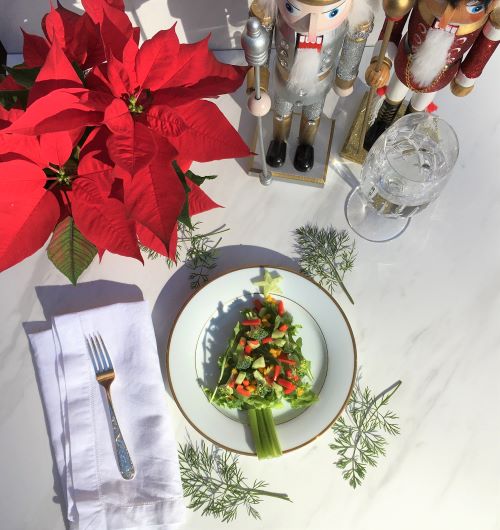 Christmas Tree Salad Recipe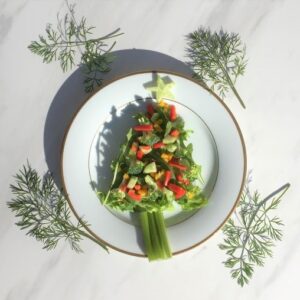 Christmas Tree Salad
Make a new tradition during the holidays with Christmas Tree Salads.  Set the vegetables out and allow your family and friends to create their own tree.  Add salad dressing of your choosing on the side.  Merry Christmas!
Ingredients
1

large

celery stalk

(65 grams)

1/2

English cucumber

(130 grams)

2

mini sweet red peppers

(75 grams)

2

mini sweet yellow peppers

(75 grams)

4

broccoli florets

(45 grams)

2

cups

(torn in 1/2" pieces) green leaf lettuce

(70 grams)

1

cup

packed arugula

(20 grams)

1/4

cup

almond slices (optional)

(25 grams)

16

sprigs

dill (optional for the garnish)

(3 grams)
Instructions
Separate vegetables into 8 bowls or place them all on a large platter.

Lightly peel the tough outer layer of the celery stalk. Slice off the tips of both ends. Cut the celery stalk into 2 ½" pieces widthwise, and then slice each of these pieces into 4 more pieces julienne style.

Peel and cut cucumber into ¼" circles. Using a paring knife, carve triangular cuts out around the cucumber circles to make 5 pointed stars.

Cut the red mini peppers julienne style. Slice the pieces in fourths widthwise. Repeat this process with the yellow peppers.

Cut the broccoli florets lengthwise into very small pieces.

To assemble: Place 3 – 4 of the same size celery pieces together for the tree trunk. Make a triangular tree shape with the green leaf lettuce and the arugula. Sprinkle peppers, broccoli, and cucumber pieces over the tree for ornaments. Add the star on top!
Notes
Nutrition Per Serving: 58 calories, 3 grams fat, 0 grams saturated fat, 3 grams protein, 6 grams carbohydrate, 2 grams fiber, 24 milligrams sodium